Automatic Gates, Rising Bollards, Parking Barriers and Solar Security
Wherever you need a gate, bollard, barrier or lighting, you will find a solution amongst our product range.
We're engineers - we build what you need, to your brief and for the purpose you need it.
Our unique SOSEC range is our flagship product - barriers and lighting that use only the sun for power. They're being used across the UK on construction sites, events, festivals and keeping security maintained when power provision is unfeasible.
They work all year round - even in overcast Britain!
Gates - solar-powered or electric
Barriers - solar, mains, fixed or instant deployment
Bollards - static or rising
Lighting - solar-powered and mobile
At Green Gate, we pride ourselves on supplying and installing the very best. From an initial security assessment, we manage every project through design, installation, safety assessment, aftercare and servicing.

Gate safety is essential to the way we work. Every gate we manage is subject to a Gate MOT and Force Testing. We are also DHF Safety Assured and Gate Safe Approved.
So, rest assured, we are taking your security and safety seriously.
Our clients include schools, public buildings, retail centres and private homes.
Mobile traffic and pedestrian management
SOSEC is a revolutionary, award winning approach to securing work sites and is the UK's first mobile, solar powered, barrier/gate system. It harnesses the sun's energy, combining SOlar power and SECurity in a simple, rugged, visible and mobile platform. It is ideal for use within the UK's construction, highways, mining, retail, event and emergency markets.
Download Barriers BrochureDownload Lighting Brochure
Find out how SOSEC can save your site money and carbon today.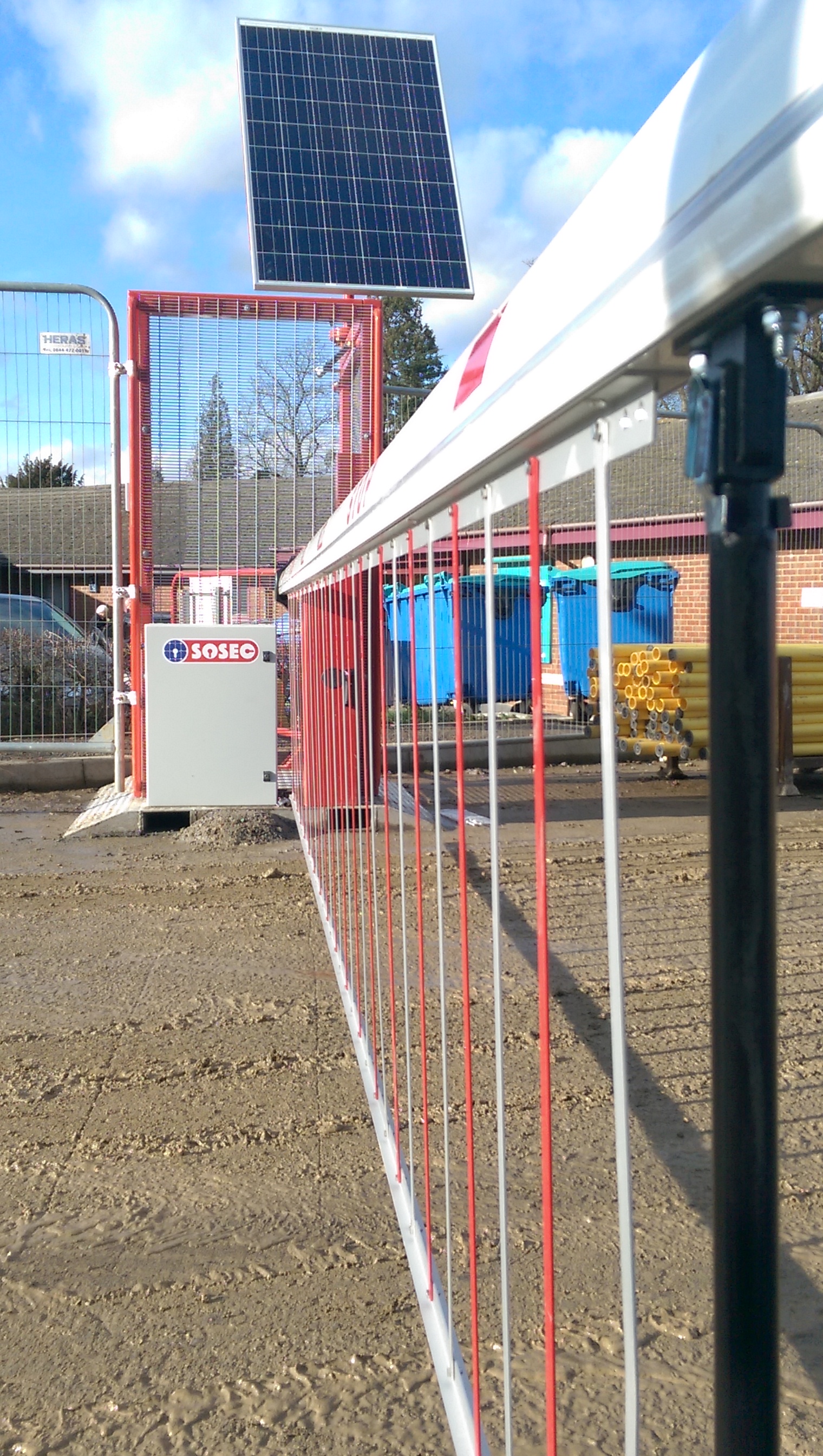 The concept, developed by Green Gate, was designed to answer the growing need to provide public safety and temporary site security where power provision is not practical, but security demands are high.
As staffing and security costs rise, SOSEC offers a security solution with no running costs, saving money and the environment. A 3 month ROI over manned security makes a SOSEC barrier the first cost saving on any building site.
Instant work area demarcation
The SOSEC range has four different types:
Barrier/gate combo - vehicle and pedestrian access
Barrier only - vehicle only
Turnstile - pedestrian only
Highways - keeping road workers safe
Designed around a rugged, galvanised, 8mm steel platform with a compact footprint, SOSEC can easily be positioned with a forklift or telehandler and is instantly ready to provide site security.
Solar powered public safety
Solar power and power storage are unique elements of the SOSEC system. Designed to operate up to 900 times per day - even in an average British winter. For short-term sites and ultimate flexibility, SOSEC can be delivered with a battery store for up to one-month's use.
Choose our combined barrier and gate, solo barrier or solo gate, to suit your site. Access options include GSM Intercom, key code, swipe card, dial to open, fingerprint, CCTV, 3G hotspot, online tracking, timer.
Each unit arrives fully tested to BS EN13241-1, force tested to BS EN 12445 and complies with the gate safety standards as defined in DHF TS011.
Find out how SOSEC can save your site money and carbon today.