Contract awarded with Buckinghamshire Housing
September 2011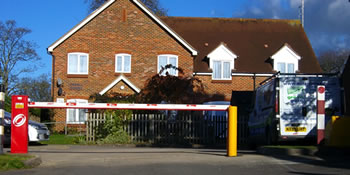 Green Gate Access Systems have been awarded the contract to roll out parking solutions for Wycombe County Council and Red Kite Housing The housing association have many properties they manage across Buckinghamshire, many of which they manage for vulnerable residents.
In these examples they have a duty of care to the residents, in terms of ensuring they have parking near the property.
Many of the properties are near high streets and shopping areas where free parking spaces are often abused and now that clamping rules have been restricted, Red Kite have opted to install barriers to stop unauthorised parking in their private car parks.
The first install was for a private car park just off the high street in High Wycombe. The install was straightforward with a single 4m O&O Up&Down barrier being installed with radio fobs and code to open and free exit from the car park. The 24v O&O barriers offer a highly cost effective solution to Red Kite Housing and the install was completed within a single morning, causing minimal disruption to residents.
Ben Eales from Red Kites Housing commented, "I was delighted with the speed and efficiency of the Green Gate team with this install. We have several sites with parking issues to address and they have certainly shown they do a great job. We are working now to plan the next installations with them."
For more information on this installation or to book a demonstration of the products used at our showroom, please contact us by calling 08456 800269.