Four Year Warranty on all Bollards and Barriers
August 2011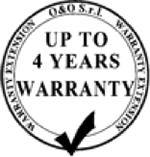 As soon as we started to install the O&O range of barriers and bollards in 2010, it became obvious that we had found a product worthy of its claims.
Within a short period of time, our expertise had been noticed by the Italian head office of O&O and we soon started strategic discussions with them leading to Green Gate Access Systems becoming the first UK distributor for the brand.
This has been a massive benefit to our clients as we can now offer a highly competitive range of barriers and bollards and bring to them all the expertise of O&O. The most telling feature of their range is their offer of a four year warranty, which is the longest warranty on the market today.
Known for their solid engineering and rugged design, O&O as standard provide a three year return-to-base warranty on all their products. This has now been extended to 4 years for clients who complete the registration card on purchase of the product and have a maintenance plan in place.
O&O has been in the market for more than 40 years and during that time it has become known the world over, thanks to the combination of the two words, quality and safety, found in all the products it manufactures and markets.
O&O has managed to set up a world market thanks to the technical features of its products. In fact, due to continuous research and improvement of each product, their products can work in any climate, acquiring a leading role in the professional automation sector.
In 2009, O&O became part of the French multinational corporation, Somfy, but it has retained its historical brand name and independence in controlling and organising its business while this merger has made it possible for O&O to offer an even more widespread service.
Thanks to this collaboration, O&O is able to offer an even more complete range - from motorway barriers to type approved bollards, from motorised guides for industrial doors to all types of residential motorisations.
For more information about the O&O product range or to book a product demonstration at our showroom, please contact us by calling 08456 800269.