Green Gate director lead speaker during Gate Safety Week 2015
October 2015
Following the success of the first National Gate Safety Week in 2014, the DHF Powered Gate Group are focusing the industry for another week of action aiming to raise awareness of the issues surrounding poorly fitted and maintained gates in the UK.
Gate Safety Week will run from 12-18 October and feature a major conference in the middle of the week. The previous Gate Safety Conferences in 2010 and 2012 were met with positive feedback from the industry. With that in mind ASO and EasyGates will be holding a third Gate Safety Conference on Wednesday 14th October at The Village Hotel, Dudley during 'Gate Safety Week'.
The one day event will include guest speakers from across the industry addressing the ongoing issue of gate safety awareness. The conference is designed to give a comprehensive and up to date overview of the progress made so far, and the ongoing developments including how you can become an active part in developing the safe and legal future for your business.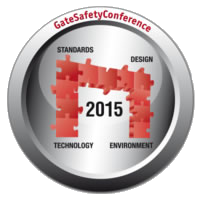 DHF's Powered Gate Group chairman, Neil Sampson, will be one of the lead speakers along with representatives from HSE, NSI, ASO and the DHF.
"The DHF PGG provides in-depth technical support and lobbying for clarity of the issues surrounding gate safety for owners and installers alike," explains Neil Sampson. "I will be speaking about the challenges our industry face and some of the incredibly positive things that are on the horizon. Our members are highly informed on how to meet safety legislation and we provide comprehensive training for powered gate installers. Since setting up the training diploma scheme in 2012, over 450 individuals have successfully completed their training. Never has there been a more positive impact on our industry to avoid any more deaths or injuries in automated gates."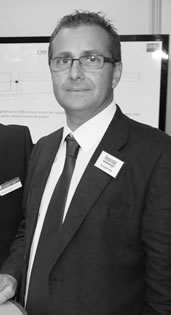 Gate Safety Week (12th - 18th October) aims to engage, educate and encourage best practise in the industry. Most importantly, it is hoped that through Gate Safety Week, accidents resulting from unsafe powered gates will become a thing of the past.
Neil continues, "Gate Safety Week was initiated in 2014 to raise awareness of the importance of proper installation and maintenance of powered gates and how to prevent accidents. It also aims to inform owners that a gate is their responsibility, whether that be in a workplace or domestic dwelling. The campaign aims to educate and inform installers, specifiers and the general public on the dangers of poorly installed and maintained powered gates and how to deal with an unsafe gate.'
'If an automated gate does not have a technical file, CE declaration of conformity, force test, user guide and maintenance log, it is simply not compliant. Owners need to realise this is their responsibility and problems are easily remedied by appointing a DHF Powered Gate Group safety assured installation and maintenance firm to manage their automated gates. Never again should a security system compromise life in the UK and the Powered Gate Group are working hard to make this so." concludes Sampson.
Visit the Gate Safety Week website for more information.