Green Gate Access Systems Celebrates 10 Years in Business
May 2016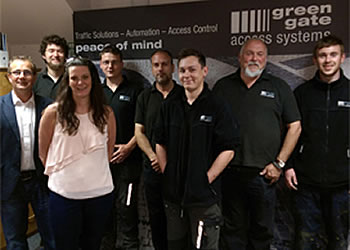 Green Gate Access Systems has established itself as one of the UK's leading companies in its sector during its first decade in business - and is looking forward to more success in the years ahead. The company started life as a home-based project for Maidstone, Kent couple Neil and Hannah Sampson with the idea of promoting solar security within the domestic sector.
Ten years on, Green Gate Access Systems has become one of the most successful and well respected within the security gate industry - achieving a number of UK firsts and winning contracts with a number of high profile clients.
It has installed solar and mains powered gates, barriers and access control systems to a number of high profile clients across the UK, including Ford, BT and the Saatchi Gallery. It has also secured a number of public sector contracts, with hospital trusts and local authorities. The company is also the UK stockist for two major automation brands including O&O barriers and bollards.
Back in May 2006 the company launched with just two employees, working out of a bedroom and a leaky lock-up on a farm. It now has a workforce of 11 people, operating out of a business unit with showroom in Bircholt Road, Maidstone. Recalling those early days Neil said, "I remember coming home and seeing there being a large delivery at the house, and my wife, Hannah, carrying our baby son in one hand and trying to sign for the barriers with another. I just thought to myself "enough is enough, we need an office!' and the rest is history."
Green Gate Access Systems prides itself on literally pushing back the barriers of its sector - from installing the country's first lifting gate, the UK's largest solar school gate in Broadstairs, and the country's first solar O&O car park barriers at Warwick Hospital.
Neil, the company's managing director, graduated from the University of Sussex with an Honours degree in Biochemistry and Industrial Marketing before working with a number of technology and internet firms. After meeting with the company behind the UK's first bespoke solar powered gate automation system, Neil recognised a gap in the market and set up Green Gate Access Systems to supply the product.
Neil said "I can't believe it's been 10 years. We have achieved so much in our infancy and the Green Gate name is growing rapidly within the powered gates industry. We have put ourselves on the map by not being afraid of a challenge. Rather than just saying 'no, sorry, can't help' when something difficult comes our way, we aim to solve the problem and go the extra mile.'
'I'm so proud of our fantastic, hard working family at Green Gate who aren't afraid to try new things - I would never have dreamt we would have been able to work with such a great team and some of the clients we have. There are so many people who help make the Green Gate brand work and uphold the reputation we have achieved - thank you to everyone, and here's to the next 10 years!"
The company is also an active supporter of several charities, including The Princess Project in Maidstone, and overseas at Soteria Business School in Nigeria.
Visit www.greengateaccess.co.uk to find out more.