Growth and Expansion for Green Gate Access Systems
April 2015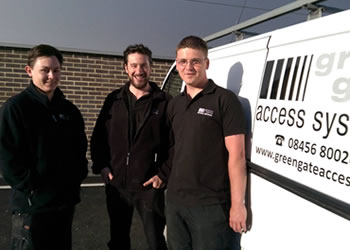 Kent based company, Green Gate Access Systems has announced the opening of an additional office in Salisbury. The new operation will be headed up by new employee, Dan Small, who has recently been appointed as Area Installation Manager, with more than seven years' experience in the industry. In 2014, Green Gate Access Systems received more than 120 leads from around the Salisbury area and it is anticipated that an office in this location will fulfil an obvious requirement for their services.
Green Gate Access Systems was founded by Managing Director, Neil Sampson in 2006, with the company achieving growth of 25% year on year. In 2009, the company moved to its first commercial premises and in 2012, they opened a showroom and training facility in Maidstone. Working with a range of clients across both the domestic and commercial sector, such as architects, schools and local authorities, Green Gate Access Systems are also the UK importer for the O&O range of automation.
In addition to new employee, Dan Small, the company has also welcomed Freddie Woolgar, who joins the team as Installation Assistant and apprentice Jimmy Wright, who has joined under the government apprentice scheme.
Wright is the third apprentice to be taken on by Green Gate Access Systems, one of whom, Tom Egan, was shortlisted in the Kent Excellence in Business Awards in 2013.
As Sampson explains, steady and sustained growth will ensure the company remains one of the most respected in the industry.
"We are delighted to be opening our new Salisbury office, which will hopefully service the busy M4 corridor from Basingstoke through to Bristol and there is clearly a need for this" he said. "Furthermore, I am confident that Dan, Freddie and Jimmy will bring a vast range of skills and experience to their roles. I value their contribution to the continued growth and success of the company and we are well on track with our ambitious strategy for the future."
For more information about Green Gate Access Systems in the south west, please contact us by calling 08456 800269.