Innovative sliding security for Triptych Logistics
March 2016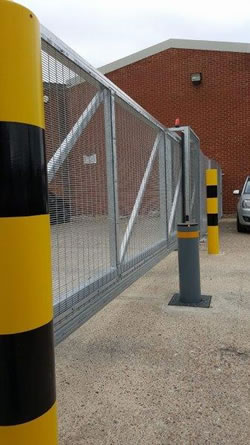 Triptych Logistics had a three-fold problem: their insurers insisted on a secure, gated compound around the building within an extremely tight business estate area with neighbours to consider and a budget ceiling. They approached Green Gate Access Systems for some answers who, after discounting lifting gates and concertina sliders on grounds of cost, came up with an innovative solution that solved all three problems.
Rapid Install Cantilever Security
The compound was divided into two areas, the loading area and separate staff and visitor areas. The latter required a relatively straight forward cantilever sliding vehicle gate with a separate automated personnel gate. This was all constructed from anti-climb prison mesh and the 5 metre sliding gate was delivered to site with the Green Gate Access 'ready to roll' approach to keep installation time to a minimum.
To increase the security to a new level, the gate was further protected with a rising anti-ram bollard and the fence sections protected by hi-vis static bollards and Armco barriers.
Staff now use their mobile phones to operate the gates. The installation is fully compliant to BS EN 13241-1 and supplied with a full force test and technical file.
Interlocking Sliding Security
Neil Sampson, MD of Green Gate Access Systems said, "The loading bay area presented a new challenge altogether. We needed to allow for large vehicles to reverse into two loading bays and then be locked in. The problem was that space was tight and a budget had to be met."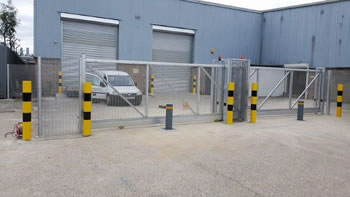 Green Gate developed a bespoke and elegant solution - two overlapping sliding gates with internal 1500kg motors. The restriction was that the vehicles had to enter the compound one at a time, but this solution allowed two 5 metre sliding gates to operate in an 11 metre space. The hold-to-run gates are again further protected with anti-ram bollards and prison mesh fencing.
"We approached a number of suppliers and not one of them could us give a satisfactory solution, let alone within budget," explained Rahul Gajjar, the logistics company CEO.
"At our wit's end, Neil at Green Gate understood the problem, immediately grasped the challenge and offered a positive, innovative solution - and within budget. Green Gate were very professional at all times. We've now added tremendous security and value to the property. The installation has been favourably commented upon by our neighbours. The system works well for staff and deliveries, in and out of hours use, and our insurers are completely satisfied."
To find out how Green Gate Access Systems can improve your security, please contact us or call 08456 800269.