K4/PAS68 crash test for O&O bollards
October 2013

MIRA, the UK's leading motor industry testing association have recently been commissioned by O&O to conduct simulation analysis on the new Grizzly 800/10 rising bollard.
The tests performed are based on the world class K4 standard involving a 7.5 tonne vehicle impact at 48kph under PAS68:2010 testing conditions.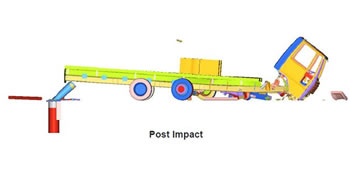 The new crash test results are a major accolade for the new Grizzly bollard that has been developed to suit the high end security market. The world recognised standards involve stringent evaluation of the bollard and simulate a major impact at speed with a large vehicle.
The MIRA results show that the bollard was totally capable to preventing a 7.5 tonne vehicle travelling at 30mph penetrating the bollard in a way that it could ever proceed further.
The Mira test was run on the fully automatic version of the bollard and they noted the fixed configuration would likely have an even better performance in the event of a similar vehicle impact. The results were based on simulation analysis using the test conditions as specified per PAS68:2010.
The Grizzly range offers some truly unique, yet simple, features that have been learnt from over 40 years of bollard experience. The lift time of 5-6 seconds is not only fast for its size, but is complemented with a special safety valve allowing the bollard to stop and reverse on obstacle detection.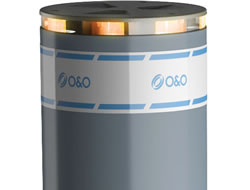 Debris ingress has been reduced by up to 80% with the introduction of a unique conical design of the bollard crown that also houses the 12 optional intense LED lights and motion siren.
Installation is far less involved that many bollards with a very shallow hole for the height of the bollard and the units are also supplied with a reinforced steel 'kick-plate' cover allowing the casing to be pre-fitted early in a property development.
A new and unique feature is the 'Termon' heating function allowing the bollard to operate at temperatures as low as -30 ?C without a separate heater.
Available in either 6 or 10mm casing, in either standard powder-coated or chrome finish and with or without brakes, the Grizzly bollards can be selected to suit any environment and application.
For more information or to book a product demonstration at our showroom, please call 08456 800269 or contact us.