Green Gate Access Systems distributor for world's largest Vertical Lifting Gate
July 2014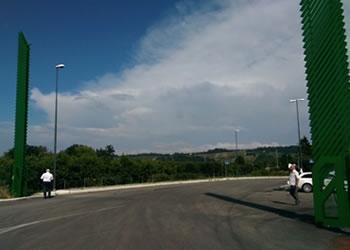 Kent based company, Green Gate Access Systems has announced that it has been chosen as the exclusive distributor for SMOES vertically lifting gates in the Eastern part of the UK.
Managing Director, Neil Sampson, returned just last week from Italy, where he visited SMOES Director, Loris Gentili and SMOES Sales Director, Nicole Corrine Pettermand, to rubberstamp the exciting collaboration.
The unique Avant gate product range from SMOES comprise vertically lifting gates that can be installed in locations not suitable for a standard gate, such as small spaces, sloping roadways, areas with no roll back space for a slider and car-parks where access is tight.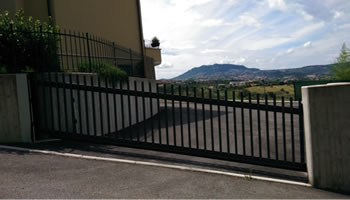 The commercial gates are available up to 2 metres high and 10 metres wide, with the domestic range, up to 1.8 metres high and 6 metres wide. Built to an extremely high standard and supplied with an EN 13241-1 certification, the gates are well finished and most importantly, safe.
With all versions available in a wide range of finishes, from a plain security gate to an arch topped ornamental or even wood effect, and a comprehensive range of colours provided as standard, Neil Sampson is confident they are the future of the industry.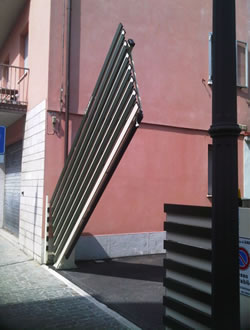 "The SMOES range is fantastic and we are delighted to be introducing this to the UK market. The opportunities are almost endless and this product has an exciting path ahead." says Neil.
"Basically there is nothing like this currently available. The fact that they lift, means they can be installed in locations where a normal gate just won't function."
"For areas where a security gate is required but the ground is sloping, space is tight or there is no room off to the sides, so you cannot swing or slide a normal gate, this is the perfect solution. The other important factor with this range is that the gates arrive pre-assembled, so installation is always within one day!"
"This is a product that once seen, will start to roll out as rapidly in the UK as it has done in Italy and Germany already. It is a unique solution to a common problem and you need to see it to believe it. It really is that good."
"We welcome Green Gate Access Systems to our exclusive list of European installers and suppliers." says Nicole Corine Pettermand. "We are adamant that those representing our product and service demonstrate the ability to both install our equipment efficiently and undertake the SMOES codes of practice with regards to safety and security. Neil and his company more than satisfy this criterion and we are delighted to have them on board."
The first UK launch will take place at FENCEX 2014 on 15th October.
For more information about SMOES vertically lifting gates, please contact us by calling 08456 800269.