Sales Manager Returns Home after Uganda Charity Mission
June 2016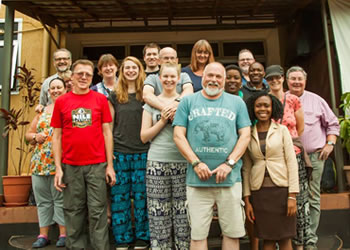 Green Gate Access Systems' philosophy is to always go the extra mile for its clients but many of its staff go even further - with one employee just back from supporting a children's project in Uganda. Michael 'Mig' Howard, the company's sales manager, was part of an 11 strong team from local church groups who travelled out to spend 10 days at a children's centre located a few miles from the Ugandan capital, Kampala.
The team raised more than £3,800 to buy new clothes, equipment and resources for poverty stricken children in Kapeeka - just a few miles off the Ugandan capital, Kampala. Mig, and the team returned this month from their travels and have begun raising further funds in order to return later this year.
"The feeling of doing good for the children's centre was great - they've asked us to go back out already and we're saving it until November time to raise more money," Mig said. "The conditions that people live in out there were unbelievable, the most harrowing thing we witnessed was this young boy, around six years old, who had a flesh eating insect, known as a 'jigger' buried under his skin on his foot.'
'It ate away and he was unable to walk, a pastor from a local church had to cut it out of his foot and save him from infection - it was horrible to see. We bought him some shoes, and offered to anything we could to support him."
Mig works for Green Gate Access Systems, the sister company of the Solar Gates UK Ltd. brand, and security specialists which provides solar and mains powered gates, barriers and access control systems throughout the UK.
Managing director, Neil Sampson spoke of his pride at the work of his senior employee and the efforts he made doing good work for those less fortunate than ourselves in other parts of the world. He said, "At Green Gate we're a family and encourage all of our staff to get involved in projects such as this - we're incredibly proud of the work he has put in and was touched to hear some of the tales he had to tell when he returned.'
'If I'm honest, I am surprised he came back - because he's always planning to help people and once he got out there he said about the extent of the problem, I thought he would stay forever to help everyone. We're glad to have him back."