Security 'Drama' at Orchard Theatre, Dartford
April 2014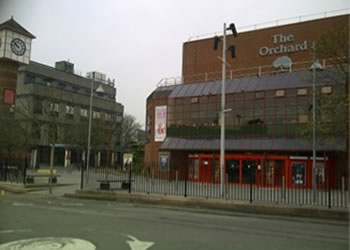 Kent based company, Green Gate Access Systems, has solved the ongoing issue of access and security at Dartford's Orchard Theatre via the use of a cutting edge computer-based access control system.
The Paxton Net2 entry control system is connected to the building management network, allowing the use of swipe cards for employees and disposable PIN codes for known and pre-booked disabled visitors.
The new security measures, put in place just two weeks ago, have enabled disabled visitors to request a parking space with a booking and receive a reservation and PIN code emailed to them, for use on an allocated date and time slot. Theatre subscribers can also be issued with an annual swipe card.
Originally contacted by Orchard Theatre in 2012 to review their parking security, Green Gate Access Systems considered several options for the project, with the consultation process lasting a number of months to ensure the right system was installed.
The original hydraulic blockers have been repaired and serviced, warning sirens and red/green traffic lights have been installed and most importantly, the flexible Paxton Net2 entry control system has been introduced.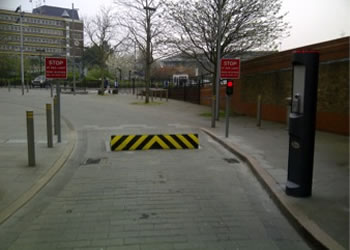 Access control is mounted on an O&O Totum, part of the overall safety package that also includes highways grade waning, No Entry signs and underground safety loops with directional logic.
Blockers rise swiftly after a vehicle has entered and minimises tailgating.
"Orchard Theatre has an obligation to provide security and accessibility for disabled patrons and theatre-goers, in addition to key members of staff." explains Green Gate Access Systems' MD, Neil Sampson.
"They have also had to alleviate the increasing problem of shoppers using the theatre car park. With the theatre located just off Dartford High Street and in close proximity to a large shopping centre, railway station and pay and display car park, it has been all too tempting for shoppers and commuters alike to take advantage of the theatre's free car parking facilities. The new installation will ensure ease of access, safety and security for both theatre-goers and employees."
"We are delighted with the work undertaken by Green Gate Access Systems and can now boast an easy-to-manage system, ensuring adequate parking for our disabled patrons and staff,' says Will West, Technical and Buildings Manager at Orchard Theatre. 'The ability to control the system from my laptop is fantastic. It has been an extremely challenging installation in a busy thoroughfare, but Neil and his team have produced an excellent result."
For more information about our range of security products, please contact us by calling 08456 800269.